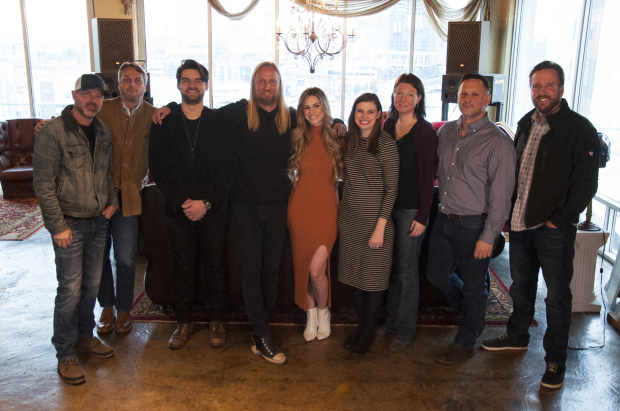 20 February, 2019 – Nashville, TN – Still Working Music and Green Iris Records, the music publishing and recorded music arms of the Roy Orbison Estate, have signed singer and songwriter Rachel Reinert to exclusive songwriting and recording agreements.
"My songs come from a very personal place; it's important to me that everything that I write and sing is real," says Rachel, "I'm excited to join the family at Still Working/Green Iris and continue to write, record, and release new music."
As a teenager Rachel moved to Nashville from Southern California and found near immediate success as member of the group Gloriana.  Gloriana shot to the top of the charts with hits like "Wild at Heart" and the Platinum-selling "(Kissed You) Good Night."   The group went on to win the American Music Award for Breakthrough Artist of the Year, the ACM award for Top New Vocal Group, and toured the globe with Taylor Swift, Rascal Flatts, Sheryl Crow, Jason Aldean, Alan Jackson, the Zac Brown Band and numerous others.
After nearly a decade together and three albums with Warner Brothers, Gloriana disbanded and Rachel commenced her career as a solo artist, soon grabbing the attention of Jon Randall, a Still Working writer and head of A&R at Green Iris Records.
"I was always impressed by Gloriana, in particular their strong harmonies, and I loved their song craft.  When I heard Rachel's first solo single, 'Cool,' I knew she possessed something incredibly special and would fit in perfectly with our Still Working/Green Iris family. I can't wait to see what lies ahead for Rachel and feel honored to be part of her next chapter in the musical world," says Still Working Music/Green Iris President Alex Orbison.
In addition to signing a multi-album deal with Green Iris as a recording artist, Rachel has signed an exclusive publishing deal with Still Working Music covering songs for both her own records and those of others.
Still Working Music was founded in 1990 by the late Barbara Orbison and is now run by her sons, Alex Orbison and Roy Orbison, Jr. (Co-Presidents) along with Chuck Fleckenstein (COO and General Manager).  Still Working Music's writers include Tommy Lee James with his eight Country #1's and Grammy winners Jon Randall and Gordie Sampson.  Recent Still Working successes include Carly Pearce's "Closer To You," Hunter Hayes' "Heartbreak," Ashley Monroe's "Hands On You," Travis Denning's "David Ashley Parker," Dierks Bentley's "The Mountain," Kenny Chesney's #1, "All The Pretty Girls," Miranda Lambert's 2017 ACM Song of the Year "Tin Man" and Lost Frequencies' "Are You With Me," a #1 in 18 countries around the world.  Still Working's catalog includes hits and #1's by Taylor Swift, One Direction, Blake Shelton, Tim McGraw, Brooks & Dunn, and George Strait as well as cuts by Carrie Underwood, Dierks Bentley, Rascal Flatts, Easton Corbin, Reba McEntire, Martina McBride, Faith Hill, Celine Dion, and Joe Walsh.
Still Working Music writers include Tommy Lee James, Gordie Sampson, Jon Randall, Chase Bryant, Dylan Altman, Dominic Scott Kay, and Lance Miller.  Still Working Music proudly partners with BMG, Kobalt, and Big Deal, among others.
Upcoming Dates:
2.21.2019 Rockwood Music Hall New York, NY  RESCHEDULED FOR 9.26.2019
2.27.2019 Hotel Café Los Angeles, CA
3.7.2019 The Basement East Nashville, TN
Contact:
Management: Ross duPre' | 333 Entertainment
Press: Anthony Langone | Marbaloo
Anthony@marbaloo.com
Booking: Jonathan Insogna | WME
Label: Chelsie Lykens | Green Iris Records